Okay, so Sunday night, sitting in church
before
the service began, I had an idea pop into my head...
That was it. The whole idea. And I've been puzzling over it since then.
12 whats in '12?!
So I did some digging...
In the Bible, some numbers have special significance and 12 is one of those numbers. Just think about all the 12s we see...
The 12 tribes of Israel.
12 Minor Prophets in the Old Testament.
12 Apostles.
Look at all the 12s in the book of Revelation. (One site said it's in there 22 times of the 187 times it the Bible.)
The first recorded words of Jesus were when He was 12 years old, in the Temple.
Genesis 12, the 12th chapter of the Bible, is where God calls Abram out of where he was and told him to go to a place God would tell him. God called a people out to be a nation ruled by God and be a testimony to the world of the One True God. Abram was to walk by faith (and so are we).
There's no doubt about it, the number 12 is one of those special numbers and since this is 2012, I thought it'd be cool to do 12 things in 2012. That got me thinking, which can be a scary proposition.
A brainstorming session with Joanne turned into a full blown brain blizzard that sent me to clean the kitchen so I could dig through all the ideas. Really. It's a good thing I did too because it helped me weed out the ideas that I loved but knew I couldn't possibly do.
So here's the deal, in 2012 I want to push myself to do 12 things that I wouldn't ordinarily do.
I don't have my list completed yet, but will be working on it and will post it next Thursday. Here's what I have so far...
I already posted my list of 9 writing craft books to read in '12. I want to add 3 books to that list and read 12 writing craft books in '12.
Do 12 short vlogs. *gulp*
Go out once a month (brrrrr) and snap pictures--not just 12 outings in March through October like I usually do. Why? To slow down and look for the beauty all around me on a regular basis, even if it's freezing out there.
Go somewhere scenic here in Southern Illinois that I've not been to before--there's so much here that I've never seen in the 20 years I've lived here.


Now, you guys know me (probably all too well!) and you know that misery loves company
so I'm inviting you along.
*grin* I'm also hoping this will keep me accountable.
Won't you join me doing 12 in '12?
Put together your own list, post it on your blog, your Facebook page, where ever, and start working on your 12 things. Each month we'll meet back here on the 12th (of course!) and report on how we're doing on our list of 12. I'll also post a linky tool so you can post and link up and we can encourage each other that way.
Our first post and link up will be Thursday, January 12th. Put your lists together and meet me back here on the 12th! 12 things you want to do in '12. Big things, little things, simple things, FUN things!
In case you want a button for this...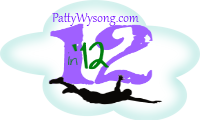 Here's the button code:
Hope to see you on the 12th with your list of 12 things to do in '12.