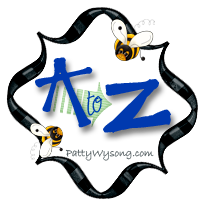 We'd love to have you join the fun, either blogging your way through the alphabet with us, or simply visiting. =) We dearly love visitors.
This week is
the letter B.
If you're joining in the meme, be sure to link up with us at the end of this post. Since this is a blog hop, you can grab the code for the linky down there too.
Find more info about the A to Z meme here.
~*~*~*~
Traveling is much on my mind these days. The other day I got to thinking about visiting my sister last year, in Puerto Rico. It was fantastic! The
beach
has always played a big part in our family--from our days on the coast of Maine, to the south Pacific
beaches
of Ecuador, so getting to visit Cheryl was a double dip of home for me. So, I indulged myself and took a mini virtual vacation by going through my pictures from Puerto Rico. I loved it!! here's some highlights from that virtual vacation. ;-)
The Beach...
My first glimpse...
Pirates Cove...
This place made my imagination run wild.
This is where you'll find me. Right there under that palm tree...that is, if I'm not at Pirate's Cove.
Toward the end of a great day spent on the beach. One last glimpse...
Can't get away? Turn on your fave music and virtually visit somewhere. Is it as good as a real, in-person visit? No. But it sure beats nothing! Worked for me. By the time I reached the last pictures of that photo file I was smiling and relaxed, ready to forge ahead in the here-and-now of my life. It was time well spent for me.
What about you? Where do you like to virtually visit when you just can't get there in real life?
~*~*~*~
If you're joining us for the
A to Z meme
by posting on your blog this week about the
letter B
, be sure to add your name and the link to that particular post in the linky gadget here. Also, if you don't have the linky gadget on your site, click the link to get the code so you can add it.