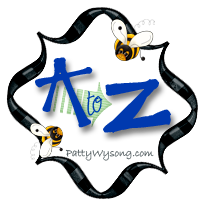 We'd love to have you join the fun, either blogging your way through the alphabet with us, or simply visiting. =) We dearly love visitors.
This week is
the letter E.
If you're joining in the meme, be sure to link up with us at the end of this post. Since this is a blog hop, you can grab the code for the linky down there too.
Find more info about the A to Z meme here.
~*~*~*~
Lately, I've had

enough

of...
Running crazy. Life

ebbs

and flows, and the past 10 days have been on the super busy side for me as I've raced the clock, getting ready for this next

event

.
Sewing. I've been sewing monkey clothes for Fonzie. His old ones are wearing out fast and we have 11 straight days of work, starting today, so I've made him some new ones, and boy, are they

ever

cute! =)
Sniffing and sneezing. Having a cold this last week has been soooo much fun (sarcasm oozing there)! But all good things must come to an

end

, and so will this cold. Thank goodness. The sooner the better. LoL.
My husband says we've been expending a lot of effort getting ready for this next event. And THAT sums up it all up, so nicely. =)
In the midst of all this, one verse repeats in my mind, making me smile
every
time.
As a teen in
Ecuador
, there were
earthquakes
one year. I was living with my basketball coach, Donna Voth. I learned a lot from her. Donna seemed to enjoy the
earthquakes
. I remember her grinning and quoting a verse while dove for a doorway. The verse?
Even so come, Lord Jesus!
And that verse has made me smile for the last week as I've slogged through these things I've had
enough
of.
So tell me, what have you had

enough

of lately?
What have you been expending effort on?
~*~*~*~
If you're joining us for the
A to Z meme
by posting on your blog this week about the
letter E
, be sure to add your name and the link to that particular post in the linky gadget here. Also, if you don't have the linky gadget on your site, click the link to get the code so you can add it.