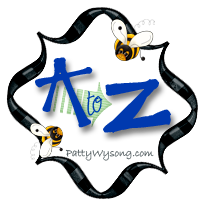 We'd love to have you join the fun, either blogging your way through the alphabet with us, or simply visiting. =) We dearly love visitors.
This week is
the letter F.
If you're joining in the meme, be sure to link up with us at the end of this post. Since this is a blog hop, you can grab the code for the linky down there too.
Find more info about the A to Z meme here.
~*~*~*~
This week we've been working the DuQuoin State Fair and it's been... interesting, yes, and fun. The week has been slow as far as business so we've had time to sit and rest (which is nice, to an extent). Thankfully, the weekends are busier.
Fonzie, me, and Toby. Resting before the evening crowd arrives.
Working the
fair
is a
family
thing for us--we're there, working together. We take turns working the monkeys and pitching in where and when needed.
Fonzie spots me sneaking a picture of him.
Monkeys don't miss a thing.
Fonzie
may be busy shaking hands, but he sees everything that goes on...including
friends
and
family
members as they come and go.
My oldest working Fonzie.
Fonzie
is an old pro at shaking hands.
It's been very hot this week and people have been concerned about the monkeys working in the heat--but they don't mind the heat. White face Capuchins are native of Central and South American jungles and they are made for the heat (but not the cold). We have lots of water and snacks for them and fans, but often they'll move out the fan breeze. On the other hand, we've been boiling in the heat and humidity.
But I have to admit, the best part of working this
fair
has been the
friends
we've made and spending time with
family
members. God gave us great neighbors at the fair and it's been great talking with them.
God's also given us a great
family
and I've loved hanging out with them this week.
Kids, grandkids, monkeys. Does it get any better than this?
We are blessed.
Of the thousands of pictures snapped so far this week, this is my
favorite
and it was a press-the-button shot. Imagine our surprise and my glee when I discovered that I caught him-who-shall-remain-nameless pouting! It's too good not to enjoy. I love this guy and I'm so thankful for him. An injury at work made it so he's been able to spend the week with us--resting and healing some (hopefully) while escaping the boredom of being stuck at home. I'm so glad he and his
family
have been with us!
So tell me, what's your favorite thing about the fair?
~*~*~*~
If you're joining us for the
A to Z meme
by posting on your blog this week about the
letter F
, be sure to add your name and the link to that particular post in the linky gadget here. Also, if you don't have the linky gadget on your site, click the link to get the code so you can add it.