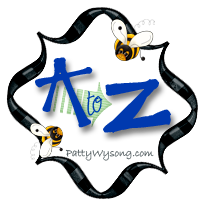 We'd love to have you join the fun, either blogging your way through the alphabet with us, or simply visiting. =) We dearly love visitors.
This week is
the letter G.
If you're joining in the meme, be sure to link up with us at the end of this post. Since this is a blog hop, you can grab the code for the linky down there too.
Find more info about the A to Z meme here.
~*~*~*~
A year ago I was in Puerto Rico
visiting
my sister Cheryl
. It was fantastic.
And now I'm missing it.
So, the letter G is
glass
. Not just any glass, though.
I've collected sea glass since I was a little girl on the coast of Maine. It's one of those special things. In Maine we found it on the rocky beaches, but in Puerto Rico the sand was wonderful...
The beach where we found the sea glass...
...and the other side of that beach.
We picked glass from the beach and the surf. Some good, some not so good, all bits of treasure. Each piece had a story I wanted to hear.
At the end of the day we settled on the patio and sorted our treasure.
More whites than ambers, and more ambers than greens and blues. Much like life.
The variation in the greens remind me of the surf. So many shades, so much beauty.
But my favorite of all remains the blues.
Want to see more sea glass?
Visit my sister--she has awesome pictures.
So tell me, if you were sea glass, what color would you want to be? Why?

~*~*~*~
If you're joining us for the
A to Z meme
by posting on your blog this week about the
letter G
, be sure to add your name and the link to that particular post in the linky gadget here. Also, if you don't have the linky gadget on your site, click the link to get the code so you can add it.