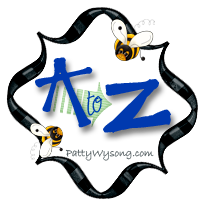 We'd love to have you join the fun, either blogging your way through the alphabet with us, or simply visiting. =) We dearly love visitors.
This week is
the letter H.
If you're joining in the meme, be sure to link up with us at the end of this post. Since this is a blog hop, you can grab the code for the linky down there too.
Find more info about the A to Z meme here.
~*~*~*~
Did I ever mention that I found my handy-dandy list of ideas for this A to Z meme? I did, I did! And I was so relieved! Especially with some of these "harder" letters, like the letter H. LoL.
Here's something I bet most of you didn't know about me and my family...
We
h
ardly ever go to the doctor. Not because we don't get sick--we do, but we choose to deal with things differently.
We use
herbs
, and have ever since my oldest (who will be 21 this winter!) was a baby and came down with a cold. As a new mom, a baby with a cold is scary. As an experienced mom holding baby #5, a baby with a cold can be scary.
Yup, we've been using
herbs
for 20 years, have had fantastic results, and are very
happy
with our decision. So I decided it was time to come out of the closet and share this side of me since it's one I've done a ton of studying in--book studying and
hands
on experimenting and using. *grin*
Many times where others see weeds, I see good plants,
herbs
that find their way into my
home
for use. The one above is a great example. Plantain is all through many yards and I hear people complain about it all the time, but it's one of those
herbs
I use A LOT.
To the left is Mullein. It grows along roadways, is very tall and can ugly, especially later in the season. The top has an area of small yellow flowers whose use is completely different than the leaves.
This Mullein plant was in my yard and we left it be--makes it easier to
harvest
if I wanted some fresh
herbs
.
Here's another favorite that most people call a weed. Yarrow. My kids know where to find it and how to use it. It's let them stay outside playing longer instead of having to come in for bug bites or scrapes.
But a fun thing about Yarrow is that many people, my mom included, put Yarrow in their flower beds. Here's how you might know it better, by it's delicate, lacy flowers...
Herbs
are something that have been a part of my life for 20 years, and I'm so thankful. Our family has been much
healthier
as a result and it's kept us out of the doctor's office many, many times. (That said, let me also say there are times when going to the doctor is absolutely necessary! I am NOT against doctors at all. I'm very thankful for them and their knowledge!)
So tell me, have you ever used herbs?
~*~*~*~
If you're joining us for the
A to Z meme
by posting on your blog this week about the
letter H
, be sure to add your name and the link to that particular post in the linky gadget here. Also, if you don't have the linky gadget on your site, click the link to get the code so you can add it.