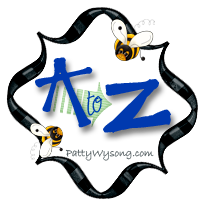 We'd love to have you join the fun, either blogging your way through the alphabet with us, or simply visiting. =) We dearly love visitors.
This week is
the letter D.
If you're joining in the meme, be sure to link up with us at the end of this post. Since this is a blog hop, you can grab the code for the linky down there too.
Find more info about the A to Z meme here.
~*~*~*~
I'm doomed!
This last weekend we returned home from an almost two week road trip. It was a great trip, even if it was a work trip. We stopped by to see my parents,
visited one of Dad's fishing lakes
, and simply enjoyed the traveling.
So why am I doomed?
Well, I had this GREAT list for blog posts for
this A to Z meme we're doing
. I mean, this is my favorite meme because it gives me the perfect opportunity to post some of the things that pop into my mind (which could be scary if there weren't a thread connecting them all together). Two days ago I went looking for my list...
It's GONE!
I'm doomed, I say!!
For a girl who lives off her lists, losing one, especially one like this, is awful!
So, I've been trying to remember some of the cool things I jotted down for the letter D...but it's just not happening. It's like my brain has been
drained.
One thing I know wasNOT on that list is this, which is something I did a lot of...
I don't know what I was taking a picture of (it certainly wasn't in
this
picture! LoL) but I got a good shot of how I looked as we drove West... like a tourist with the camera clenched in my hands or plastered to my face.
When we saw these huge rocks in the middle of nowhere and nothing, guess what we saw?
Go ahead,
guess
.
What do these rocks look like to you? (Remember, it ties in with the letter D.)
Think outside the box.
Goofy is good...
;-)
~*~*~*~
If you're joining us for the
A to Z meme
by posting on your blog this week about the
letter D
, be sure to add your name and the link to that particular post in the linky gadget here. Also, if you don't have the linky gadget on your site, click the link to get the code so you can add it.