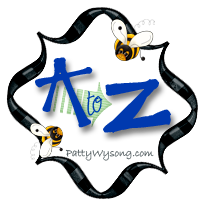 We'd love to have you join the fun, either blogging your way through the alphabet with us, or simply visiting. =) We dearly love visitors.
This week is
the letter R.
If you're joining in the meme, be sure to link up with us at the end of this post. Since this is a blog hop, you can grab the code for the linky down there too.
Find more info about the A to Z meme here.
~*~*~*~
Earlier this week I filled out a survey from a hotel. One of their questions was, "how many night have you spent in a hotel this year?" I pulled out my calendar and was stunned with my count.
We've spent at least 45 nights in a hotel in the last 12 months. Le gasp.
That add up to a lot of road trips!!
So I opened the file that I dump pictures from my phone into and found a record of our travels.
Here's a sample...
Fonzie likes"driving" when Dad's not.
Back roads...
and big roads.
Quiet roads...
and curvy roads.
But the best road of all...
is the road home.
Road trips are a way of life for us, and although I like home best, I'm enjoying this season of our lives.
~*~*~*~
If you're joining us for the
A to Z meme
by posting on your blog this week about the
letter R
, be sure to add your name and the link to that particular post in the linky gadget here. Also, if you don't have the linky gadget on your site, click the link to get the code so you can add it.