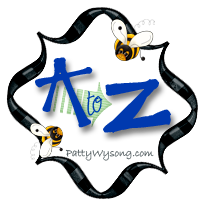 We'd love to have you join the fun, either blogging your way through the alphabet with us, or simply visiting. =) We dearly love visitors.
This week is
the letter P.
If you're joining in the meme, be sure to link up with us at the end of this post. Since this is a blog hop, you can grab the code for the linky down there too.
Find more info about the A to Z meme here.
~*~*~*~
After a long, hard fight against bone cancer,
Dad died last Friday
, November 1st. It's hard to believe he's gone—gone to Heaven—and yet it isn't. We've been preparing for this for quite a while now. But can you ever be ready for losing a loved one? I don't think so. It's so very comforting to know where Dad is and to know that we'll see him again someday. But still, it's hard for us and for the kids—they'll miss their Pappy and we'll miss my dad.
I'm so very thankful for the extra time we had with Dad. He's taught me much over the years. How to listen, how to ask good questions, how to do a job well, and how to pray. I learned quickly not to pour the milk on my cereal before praying for breakfast. When Mom and Dad prayed for a meal, they prayed over the family. The whole family. That meant that as we grew up, married, and had children, their prayers lengthened. They prayed over tests the kids had, jobs, decisions they knew we had to make, kids who were in a stupid faze… They prayed faithfully. My kids knew Grammy and Pappy were praying for them.
Now that Dad's gone I'm worried. Mom and Dad were so faithful to stand in the gap and pray for us and I know Mom is still praying and will continue—but still, that means we're down one prayer warrior interceding for us. And we need prayer! I've seen the difference prayer makes in our lives. Not only that, but there are people in our family that my heart is so heavy for. People I'm deeply concerned about. Who's going to pray for them now that Pappy is in Heaven? Who's going to step up and fill the gap that his homegoing has left? I want that prayer coverage. I need that prayer coverage.
As I thought about this the other day, I felt that silent nudge. It's time for me to quit relying on the prayers of others so much and step forward and fill the gap.
Prayer is something all of us can do, regardless of the season our life is in. The question is, do we?
I searched for a man among them who would build up the wall and stand in the gap before Me for the land, so that I would not destroy it; but I found no one. ~Ezekiel 22:20
God looks for people praying. He listens to their prayer and responds. When Abraham interceded for his nephew, Lot was saved when Sodom was destroyed. When Moses interceded for the people of Israel, God listened and didn't destroy the people. Prayer changes lives. We know this, but do we really know this—the kind of know that changes our lives?
Are we praying faithfully for others, standing in the gap for them, lifting them up before the God who hears and interceding for them? Am I?
Dad showed me how to pray. It's time to step forward and fill the gap his home going left.
So tell me, who are the people in your life that you need to be interceding for?
Be faithful to your job and pray.
~*~*~*~
If you're joining us for the
A to Z meme
by posting on your blog this week about the
letter P
, be sure to add your name and the link to that particular post in the linky gadget here. Also, if you don't have the linky gadget on your site, click the link to get the code so you can add it.