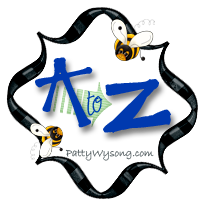 We'd love to have you join the fun, either blogging your way through the alphabet with us, or simply visiting. =) We dearly love visitors.
This week is
the letter Q.
If you're joining in the meme, be sure to link up with us at the end of this post. Since this is a blog hop, you can grab the code for the linky down there too.
Find more info about the A to Z meme here.
~*~*~*~
I Quit!
Sometimes I say those words and carry through on them. Yes, I know that can be considered blasphemous by some, but really, quitting can be good. Other times though, ay yi yi, they can be bad, very bad!
This time of year—November and December, I tend to assess my life and see what needs changing. What's working and what's not. It's a time for looking behind me then looking forward. I have a tendency to keep piling things on, so that means there's a surplus of stuff in my life. Some of it needs to be gotten rid of and there's bound to be a few things I need to get rid of, to quit.
And that brings me back to quitting.
The key is to quit the right things at the right time.
And therein lies the rub.
So tell me, how do you decide what to quit and when?
~*~*~*~
If you're joining us for the
A to Z meme
by posting on your blog this week about the
letter Q
, be sure to add your name and the link to that particular post in the linky gadget here. Also, if you don't have the linky gadget on your site, click the link to get the code so you can add it.