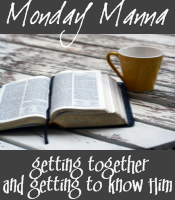 Today is Monday Manna over at
An Open Book
. Be sure to join us there for links to more thoughts on Isaiah 53:5.
But He was pierced through for our transgressions, He was crushed for our iniquities; the chastening for our well-being fell upon Him, and by His scourging we are healed.

~Isaiah 53:5 NAS



But he was wounded for our transgressions, he was bruised for our iniquities: the chastisement of our peace was upon him; and with his stripes we are healed.

~Isaiah 53:5 KJV
Isaiah 53 is one of my most favorite chapters in the Bible, so I was thrilled to see that Joanne chose a verse for us from there—not to mention that I happen to know this is an extra special passage for her!
(Happy rebirth-day, JoDear!!)
I'm a New America Standard girl, but I have to admit to loving this passage best in the King James.
Being not only a homeschool mom, but someone who spends much of my time writing, what jumps out to me is the pronouns and prepositions in this verse.
...He...for our...
...our...upon Him...
...with His...we...
If we didn't know anything else, that alone tells us so much about what Christ did for us. He died for us, in our place. He suffered through a horrible death out of LOVE for us. My mind completely boggles at that much love. Yes, I love my husband, and I love my children, but the kind of love Christ has for us is so far beyond that. Infinitely beyond that.
Because of
my
sin Jesus was rejected, beaten, chastised and scourged. My sin did this to Him. My sin made it necessary for Him to go through such things. And yes, necessary. The penalty and debt incurred by my sin needed to be paid, and HE paid that price. In full. Out of love. Wowzers!
Now look at those verbs!
Wounded, bruised, stripes (KJV)
pierced, crushed, scourging (NAS)
Those are strong words, especially those in the New American Standard version. I wouldn't like to experience those! (and it doesn't appear that Jesus wanted to either—look at His prayer in the Garden to see just how much He didn't want to) Yet He did. For MY sins. Out of love for me.
Lord, thank You for loving me so much that You endured all that so I could be forgiven. Your love amazes me and I hate to think where I would be without it. Thank You. Father, help me to give all I have to You! My life, my all. I love You, Lord.