Since February is a third over it's time for my blessings post—before any more time passes. But first, I need to back up to December. *blush* I forgot a blessing from December (not too surprising for me, but still!)
Traci of In the Potters Hand
gave me some of her beautiful cards. I love them, and one of them has one of my favorite quotes on it and there's even dragonflies on the card, and in the summer I love watching the dragonflies. "Life isn't about waiting for the storm to pass...it's about dancing in the rain!" Thank you so much, Traci!
Then there's a couple blog awards given to me!
Sunny of
A Damsel no longer in distress
gave me. I love Sunny and I love visiting her—she always encourages me and makes me really stop and think. Thank you so much Sunny!
The rules of this award are:
Confess 5 things I'm addicted to.
Pass this award onto 5 other sisters.
SO, the five things I'm addicted to:
1. My Lord and Savior, Jesus! Without Him in my life, there would be nothing.
2. My husband. He loves me, supports and encourages me, and is the best husband I could ever have hoped for!
3. My kids. I really am addicted to them—even on the days I think about trading them in for puppies! LoL.
4. Writing.
5. The Jewels in my life. 'nuff said.
Now, the sisters I'm passing this on to—not in any particular order! (and if you've already received this one—LoL—here it is again.)
Heidi
—girl, you manage to keep me in stitches and make me think at the same time. I never know what to expect when I visit you, and I love that. I'm praying for you!
Joanne
—your wet noodle is very affective. Thank you for wielding it on me. But more than that is your heart for encouraging and nurturing those around you. You specialize in blessings.
Kristen
—you have a God-given talent for turning a story into a lesson. I love your enthusiasm for life—you've been a blessing in many ways.
Vonnie
—your heart for younger women is not only encouraging, but a gift to those of us who are younger.
Laurie Ann
—God has blessed you with an ability to pull apart a Scripture verse and explain it in a very understandable way that sinks in and sticks with me. Visiting you blesses me and teaches me.
Lynda of On the Write Track
gave me the "When Life Gives You Lemons, make Lemonade" Award . I love this one! Making lemonade out of the lemons is so much fun! If you love to read as much as I do, then you really, really need to go by Lynda's blog—she's giving away books this month!!
For this award, I'm passing it on the five of ladies that have made the best lemonade around. And I mean it. These ladies are spectacular and squeezing out lemonade and I love each of them dearly.
Dee of
My Heart's DeeLight
Laura of
LauraLee's Lifesong
Laury of
In My Daddy's Arms
Sunny
, my jewelly sister who I love greatly (and who has a private blog.)
Sunny of
A Damsel No Longer in Distress
Beth of
Laughing at the Days
Sara of
Fiction Fusion
Two other blessings that have come into my life in February were the opportunities to become a part of two teams.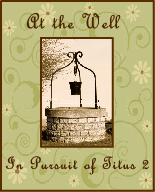 Each month I'm a blogger
At the Well
where I take part in 'Reflections on the home'. I have been tremendously blessed through this group of ladies! Make sure to join us At the Well—Chelsey has done a fabulous job putting things together!
Also, each week I'm blogging at
Exemplify Magazine's Online Blog
This is another ministry that's blessed me time after time after time. These ladies are real, and there's great diversity. Make sure you check out Exemplify Magazine! It's wonderful!