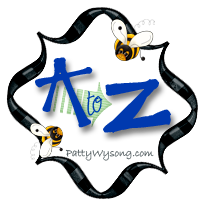 We'd love to have you join the fun, either blogging your way through the alphabet with us, or simply visiting. =) We dearly love visitors.
This week is
the letter B.
If you're joining in the meme, be sure to link up with us at the end of this post. Since this is a blog hop, you can grab the code for the linky down there too.
Find more info about the A to Z meme here.
~*~*~*~
It's been raining here at my house for days and days. Even when I wasn't home it was raining. We've had everything from storms to drizzle. Constant drizzle to tornado warnings.
Yesterday my daughter came out of her room and growled when she looked out the kitchen window. "See, this is why I hate winter! It's so dark and gray. It's awful." I know what she's talking about. Often the winter--the dark days become like a Beast in our lives, making it hard to see anything else. Thankfully, later that day God reminded me of something I need reminding of often...
My youngest son stepped outside for something and came running back in to tell me to come see.
Beauty
had flooded the sky.
Often we're so focused on the Beast that we miss seeing the Beauty.
After snapping a few pictures (okay, lots of pictures), I turned around to go back to the house. This is what I saw...
More
beauty
, even if this picture doesn't show it well.
A double rainbow.
What a reminder that there's
beauty
all around us. Even on dark days full of storms and the constant dripping of drizzle.
Sometimes we just need to step to where we can see and then look around.
Beauty

is there, if we'll just look.
So tell me, what's something beautiful you've seen lately?
~*~*~*~
If you're joining us for the
A to Z meme
by posting on your blog this week about the
letter B
, be sure to add your name and the link to that particular post in the linky gadget here. Also, if you don't have the linky gadget on your site, click the link to get the code so you can add it.