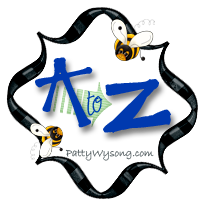 It's here! And I'm so excited. Another round of A to Z.
We'd love to have you join the fun, either blogging your way through the alphabet with us, or simply visiting. =) We dearly love visitors.
This week is
the letter A.
If you're joining in the meme, be sure to link up with us at the end of this post. Since this is a blog hop, you can grab the code for the linky down there too.
Find more info about the A to Z meme here.
~*~*~*~
This year I've learned a lot about anxiety.
It's not a learning curve I sought out.
It's not been a fun lesson.
But it is the path I've been on and I know God has used it in my life. When the anxiety became too much I turned to the only One I knew who could handle it and do something about it. I dug into the Word and I think it saved my sanity.
I know it saved my peace of mind.
Not only did I find peace of mind, I found peace. All-encompassing peace. The peace that passes all understanding.
Now I'm anxious to--as in really looking forward to--share what I learned about anxiety and worry. I've been working on a study about worry and sometime this fall I'll be putting it on Kindle.
It's a good kind of anxiousness. One that I like.
One that I can live with.
So tell me, what's an anxiety you can turn the tables on and turn it into the good kind of anxiousness?

~*~*~*~
If you're joining us for the
A to Z meme
by posting on your blog this week about the
letter A
, be sure to add your name and the link to that particular post in the linky gadget here. Also, if you don't have the linky gadget on your site, click the link to get the code so you can add it.