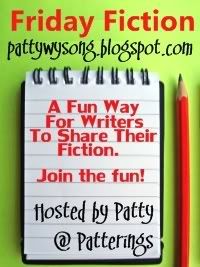 Welcome to Fiction Friday! We have a technical change for Fiction Friday linking up procedures. Due to technical difficulties others have experienced, we will not be using "Mr. Linky" any longer.
When participating in Fiction Friday leave your url in a comment on the host's Fiction Friday post (which is right here today).
This is one of my early stories that I wrote for
Faithwriters
Weekly Writing Challenge--one that I really enjoyed. Since so many of us are involved with Vacation Bible School during this time of year, I thought it'd be a good time for this particular story, especially since I'll be in VBS all next week. :-)
~*~*~*~*~*~*~*~
Quiet, Please!
Melissa's head was pounding as she made the circuit around the church building gathering children. In addition to her own 2, she was playing taxi driver for 5 others, giving her a total of 7 between the ages of 5 and 12. The hallways were noisy with the sound of the 'musical instruments' the kids had made in crafts that morning. There were oatmeal canister drums, soda bottle maracas, paper plate tambourines, and rubber band harps all being played exuberantly, emphatically reminding her why she worked in the kitchen during Vacation Bible School and not with the kids themselves. Children were not her cup of tea. In fact, she didn't even really like children.
Finally having all seven children they headed for the van, at least until they left the church building, at which point the kids scattered in seven different directions.
"Stop!" Melissa shouted. "Walk this way." She made a wide sweeping arc that pointed toward her van and watched in amazement as the kids laughed and fell in line behind her with their arms out, pointing. Shrugging her shoulders and shaking her head, she started off for the van. Behind her the kids shrugged their shoulders and shook their heads, but followed.
Melissa suspiciously looked over her shoulder and almost tripped when she saw the kids look over their shoulders and giggle at each other. Stopping, she turned, propped a fist on her hip and asked, "What on earth are you doing?"
More giggles as the kids propped their hands on hips and innocently batted their eyes at her. Finally Meggie, the five-year-old couldn't contain herself, "Mommy, you said to walk this way, so we were walking just like you said!" The older kids dissolved in laughter.
"Oh, I see!" Melissa said. "So, if I walk like
this
," she turned around and walked like Frankenstein, "you'll walk that way, too?" Looking over here shoulder she saw they were following her, so she flapped her arms like she was flying and, sure enough, they flapped too, amid much giggling and jiggling from their instruments.
Well,
Melissa thought,
I DID say it!
At the van she counted the kids and checked their faces, making sure she had the correct ones; it would be awful to get home and find she had the wrong ones. By the time they pulled out of the parking lot there was a cacophony of musical instruments as they all tried to out-do the other.
This is why I only have two, Lord,
Melissa prayed.
Kids really do drive me crazy. Even working in the kitchen is too much, so please show me where I can serve You, without having to deal with children.
Britney twisted around in the front passenger seat and called out, "Ok, guys, I'm Miss Sherry. Let's sing 'If You're Happy and You Know It!'" Melissa hadn't thought the noise could be any louder than it had been, but she was wrong. The volume increased when they began singing.
"Sing it out, Gang!" Melissa smiled at Britney's imitation of Miss Sherry, the song leader. "I can't hear you!" Britney called out just as Miss Sherry did during the morning singing. The kids all belted out the song while getting more noise from their instruments than Melissa had thought possible, her head beating in time with the canister drums.
Maybe they'll quit after this song,
she thought desperately, wishing she'd taken the time to take some aspirin before getting the kids.
Rather than quitting Britney called out, "Again!" at the end of the song and they kept rolling.
In desperation Melissa held up her hand, trying to signal for quiet. "That's not music! That's noise!"
"That's part of our verse today, Miss Melissa." Jason, the seven-year-old called out. "Make a joyful noise unto the Lord." The kids all happily went into a jam session leaving Melissa to her thoughts.
Ok, Lord. It may be a joyful noise, but it's driving me crazy!
Melissa gripped the steering wheel and prayed for patience.
Lord, I need help here. You know I'm not one who loves children…
"Quiet! I can't handle any more!" Melissa commanded. All the children fell silent and looked at her in amazement, all but the five-year-old who was lost in her own little world.
"Jesus wuvs da wittle chill-dwen, all da chill-dwen of da wohrld."
"Make a joyful noise unto the LORD, all ye lands."
~Psalm 100:1 (KJV)
~*~*~*~*~
This is fiction! Truly. But I've been whammied like this many times by things from a child's mouth. I think it hurts more when the message comes through a child. sigh.
This week's spotlighted author is Trish Perry and she's giving away a copy of her new release. Be sure to leave a comment to be entered in the book drawing, which will be open until Saturday evening. This book Trish is giving away sounds wonderful!