It's March! I'm almost jumping with joy! By the end of this month winter should be on it's way out of southern Illinois. Normally spring is well settled by the end of March, but this is just not a normal winter. But that's okay. It's March now so winter will be outta here soon.
How did your February go? Did you accomplish the things you wanted to? I have to tell you, I got an
F
in February—but probably not like your thinking. I only partially reached my goal of writing 35,000 words—and that's okay! 21,080 words is what I ended up with, and the majority of those were not on my missionary romance, as I'd planned. I made forward progress, lots of it, and that's the main thing.
So if not reaching my writing goal didn't give me the F, what did?
You see, February turned out to be a month for
F
acing some of my
F
ears. Fears of stepping forward into the unknown, fears of stepping
completely
out of my comfort zone. God orchestrated so many details that I have no doubt whatsoever that these things are from Him—but I still had to step out in
F
aith. My
f
aith grew this last month as I focused on God and not on my fear.
There's two big Fs right there:
F
ear and
F
aith. But there's one more.
F
riends. My circle of friends has done a lot of cheering in February as different ones have had things come about that we've been praying for, and even things we hadn't even begun to pray about. But close on the heels of cheering has come the
f
ear. Because we've banded together, we're able to encourage each other and pray through the fear and uncertainty. That's what
f
riends do.
God is so good. I'm excited about the
F
s I got last month!
Facing fears, Faith and Friends
. All in
F
ebruary! That's the kind of
F
I don't mind getting!
So what does March hold? Only God knows, but I have a plan to tie up some loose ends from February and to get back into my missionary romance. I'll also be holding onto those
F
s from last month.
Don't forget the book giveaway with Christa Allan! The drawing is open through today, so make sure to leave a comment
here
and
here
to be entered.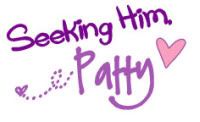 Blogging workshop and
Blog Make-over workshop now available!