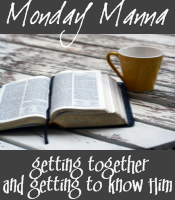 Welcome to Monday Manna! This week Joanne chose Psalm 2:11
Serve the Lord with fear and rejoice with trembling.

(NIV)


Worship the Lord with reverence and rejoice with trembling.

(NAS)
This has been on my mind since Joanne posted it last Thursday, and I'm just now getting to sit down with it. I had to laugh because my thoughts focused on the first half of the verse, and hers were on the second half.
Serving God is one of our reasons for being here—something I'd often like to forget because I'm so self-centered and me-focused. What jumped out to me is that yes, we're to serve God, but even more, we're to serve reverently.
I think this is something God is really trying to get through to me because it keeps coming up.
Reverence for God.
Entering His presence reverently and now serving reverently. Often I'll go about the things I do and although I'm not flippant (although, sometimes I am), I'm not reverent either.
But as for me, by Your abundant lovingkindness I will enter Your house, at Your holy temple I will bow in reverence for You. ~Psalm 5:7
Serving God is an act of worship. If-- no, since God can use my service, even when I'm not necessarily reverent, just imagine what He might be able to do if I were serving reverently. Wow. That's what I want.
Thanks, Joanne. Be sure to join us at
An Open Book
for more Monday Manna links.