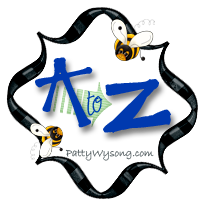 We'd love to have you join the fun, either blogging your way through the alphabet with us, or simply visiting. =) We dearly love visitors.
This week is
the letter W.
If you're joining in the meme, be sure to link up with us at the end of this post. Since this is a blog hop, you can grab the code for the linky down there too.
Find more info about the A to Z meme here.
~*~*~*~
I'm not a fan of winter but even I have to admit there's a beauty to winter that just can't be found in any other season.
It's the time of year when I do a lot of mental wandering. I think about the past year, what I did and what I didn't do.
It's a pensive week for me, a time I'm finding I look forward to more and more. Maybe it comes with age and the little bits of wisdom I glean with the passing of time.
It's a time of looking forward too. A time to think about what I want to change and do, what I want to become. A time for dreaming and planning, knowing that plans change faster than corn grows.
But that's okay.
Plans are stepping stones that get me to the next turn, the next thing.
My job in the midst of all the change is to stay flexible and obedient. And there's the crux of it all for me. Obedience. Listening for and to my Savior's voice. Being available and willing.
How does that look for this coming year? Where will that path take me? Time will tell as I take each step as it comes, trusting my Father and holding tight to His hand.
What about you? What do you do with this week between Christmas and New Year's?
~*~*~*~
If you're joining us for the
A to Z meme
by posting on your blog this week about the
letter W
, be sure to add your name and the link to that particular post in the linky gadget here. Also, if you don't have the linky gadget on your site, click the link to get the code so you can add it.