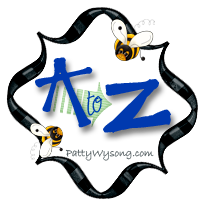 We'd love to have you join the fun, either blogging your way through the alphabet with us, or simply visiting. =) We dearly love visitors.
This week is
the letter U.
If you're joining in the meme, be sure to link up with us at the end of this post. Since this is a blog hop, you can grab the code for the linky down there too.
Find more info about the A to Z meme here.
~*~*~*~
Last weekend we were snowed in and we're still covered with snow now, which is pretty unusual for us here in the southern end of Illinois, and that snow created fog, a snow fog. The other day, shortly after Jim left for work, he called to tell me about the snow fog and to let me know there were some good pictures to be had if I would brave the snow and cold. (Remember, Patty turns into a popsicle below 60 degrees and we are waaaay below 60 now.) I didn't have to think twice though. I woke up Esther, invited her along, and started hauling on whatever winter gear I could get my hands on (and I'm so glad there's no picture of me in that get-up! LoL.)
Esther rolled out bed and we were out the door within 15 minutes. I'm so glad we did! Here's what greeted us at the end of our driveway...
There was almost no fog though and I was afraid it had all dissipated in those 15 minutes. But then we turned and went up the hill...
We found the fog and so much more!
We got in and out of the car many, many times in the two hours we spent out shooting pictures, not to mention the times we kept the windows down (and the heater blasting!) so we could shoot from inside the car.
The fog nestled into the low lying fields and hovered over swampy areas.
It added a magical beauty to landscape we normally zip past without really seeing.
The snow fog was an unexpected treat in this week that would have been otherwise burdened with snow.
It reminds me of the difference God has made in my life. He creates the magical beauty that I would miss otherwise, and that beauty transforms the burden of unwanted things in my life into unexpected treasures.
So tell me, is there a burden in your life that God is turning into an unexpected treasure?
~*~*~*~
If you're joining us for the
A to Z meme
by posting on your blog this week about the
letter U
, be sure to add your name and the link to that particular post in the linky gadget here. Also, if you don't have the linky gadget on your site, click the link to get the code so you can add it.