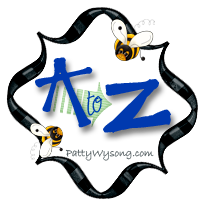 We'd love to have you join the fun, either blogging your way through the alphabet with us, or simply visiting. =) We dearly love visitors.
This week is
the letter M.
If you're joining in the meme, be sure to link up with us at the end of this post. Since this is a blog hop, you can grab the code for the linky down there too.
Find more info about the A to Z meme here.
~*~*~*~
Really, I DID plan on doing a post on something other than monkeys for the letter M, but... oh well. I'll do it later.
Monkeys love strawberry jam. And I do mean LOVE. Giving them the almost empty box of homemade strawberry freezer jam is as much for our entertainment as their enjoyment. Before the box is licked clean, they'll almost stand on their heads to get it all.
Getting pictures of monkeys is not as easy as you may think. We had to upgrade our camera to have a high speed clicker. It often takes up to 10 shots to get a decent picture.
Toby is a goof, but he's even goofier in some of the pictures I end up with of him.
Since we exhibit the monkeys, they get to see their vet on a regular basis. When they're working, they see him twice a month.
I am so very thankful for our vet Carey. He's phenomenal with animals, and isn't put out by over excited monkeys. Not only that, but the vet's office staff is great. Fonzie doesn't do well with dogs, so when there's dogs in the waiting room, the ladies point us to an exam room to wait in so Fonzie doesn't freak out and terrorize the dogs.
Being part of the family means being taking baths are a MUST. For the most part, the boys love bath time. Toby likes playing with the bubbles in his daily bath, but every now and then he's a stinker and I end up as wet as him. But hey, kids are the same way. ;-)
Nap time...
TV time is often snuggle with the family time...
Thanks for putting up with yet more pictures of monkeys. =)
So tell me, if you could have an exotic pet, what would you have?
~*~*~*~
If you're joining us for the
A to Z meme
by posting on your blog this week about the
letter M
, be sure to add your name and the link to that particular post in the linky gadget here. Also, if you don't have the linky gadget on your site, click the link to get the code so you can add it.