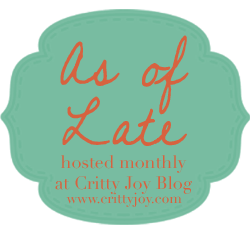 One of my favorite memes that I don't do often enough is
As of Late
, hosted by CrittyJoy. This one makes me pause and think about all that's gone on in the past month and look for what's been going on below the surface.
Lately,
I've been caught in a bank of
cotton candy
. It's slowed me down and made me think. And rest.
Lately,
letting go has become a good thing. A doable thing.
Lately

,
evaluating and analyzing has been a daily thing.
Lately,
staying away from the computer has been oh-so easy to do. A wonderful change of pace.
Lately,
I've been looking back in preparation for looking forward.
Lately,
I've been in my cave, recharging.
So tell me, what have you been doing as of late?
Want to join in the As of Late fun? Be sure to join us at CrittyJoy's.