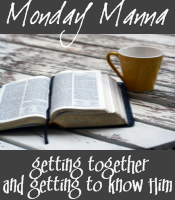 Today is Monday Manna at
An Open Book
and Joanne gave us a wonderful passage! It's also Joanne's birthday today so be sure to stop by and wish her a happy birthday!
Happy Birthday, JoDear!! You're an inspiration to me and a super special sister-of-the-soul. :)
4Rejoice in the Lord always. I will say it again: Rejoice! 5Let your gentleness be evident to all. The Lord is near. 6Do not be anxious about anything, but in everything, by prayer and petition, with thanksgiving, present your requests to God. 7And the peace of God, which transcends all understanding, will guard your hearts and your minds in Christ Jesus.
8Finally, brothers, whatever is true, whatever is noble, whatever is right, whatever is pure, whatever is lovely, whatever is admirable—if anything is excellent or praiseworthy—think about such things. 9Whatever you have learned or received or heard from me, or seen in me—put it into practice. And the God of peace will be with you. (Philippians 4:4-9)
This is one of those all-time great passages of the Bible that so many of us turn to quite often. When I read through it this time I notice "And the peace of God, which transcends all understanding, will guard your hearts and your minds in Christ Jesus." Probably because in the zoo-iness of life peace is hard to come by.
I don't know about you, but if I feel God's peace inside me I can handle so much more chaos in my life than without it. His peace truly guards my heart and mind, keeping me anchored and secure. Peaceful in the midst of the storm. That peace surely "surpasses all comprehension."
So how can I find that peace? How can I consistently have God's peace in my life? I think the rest of the passage tells us how.
**rejoice
**REJOICE!! :)
**don't be anxious or worry
**pray instead
**focus your mind on the things of God
In every area and every circumstance and situation we're to talk with God—that personal communication with Him that's known as prayer. Not a rote prayer that we simply repeat over and over, but deep, intimate conversation like we have with a sister, close friend or spouse. When we're in close and constant contact with God, His peace is much closer than when we're not.
Another thing I think is key to having God's peace is our focus. Is my mind focused on God, and things of God, or is it distracted with the million and one things crowding around me, yapping at me. I've found that, even when I talk with God a lot, I can still have the wrong focus. I can cry and whine and complain constantly to God...and never know peace. Or I can set those things behind me, focus on the good--on God and know His peace, even when the situation is exactly the same.
That's
the peace of God that guards my heart and mind. It can keep me calm in the midst of chaos just as surely as it keeps me anchored and secure in His Sovereignty.
So tell me, have you got peace?