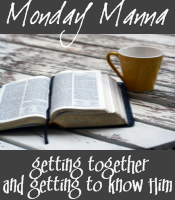 Today is Monday Manna and Joanne has chosen a wonderful verse for us to blog about! For more thoughts and links be sure to join us at
An Open Book
. We'd love to have you join us in posting your thoughts, too!



For you will be a witness for Him to all men of what you have seen and heard.

~Acts 22:15
God has given us work to do! We are to be a witness for Him. It's something that every single person can do—tell others what Jesus has done for us personally. It does not take any special training or special
anything
. Simply telling others what Jesus is doing in our lives—in
my
life.
In Matthew 11:4 says something similar.
"Jesus answered and said to them, 'Go and report to John what you hear and see...'"
How about when the Gerasene demoniac asks to accompany Jesus? What does Jesus say to him?
"Go home to your people and report to them what great things the Lord has done for you, and how He had mercy on you."
(Mark 5:19)
This is something that we can do even as we balance babies on our hips, or run a taxi service, or care for aging parents. Whatever time of life we're in, we can testify. God has done so much for us! Let's follow the
Samaritan woman's
example and run and tell those we know. As a result of her testimony, many people in the city came to Jesus and believed in Him. And all she did was tell them what Jesus had done for her. Nothing fancy. Simply testifying.
We can do that! Let's take every opportunity that's presented to us and let's diligently watch for every opportunity so that those around us may know God, for there is none like Him.
Be sure to join us at
An Open Book
for more Monday Manna.
Don't forget that tomorrow is an interview with Cheryl Wyatt and she's giving away a copy of her new release,
Ready-made Family
.