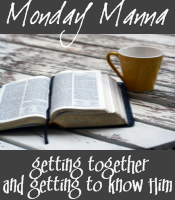 Be sure to join us at
An Open Book
for links to more thoughts on today's verse! And feel free to jump in and join us!
Render to Caesar the thing that are Caesar's and to God the things that are God's. ~Mark 12:17
Every quarter I pull out my tax files and cozy up to my adding machine where my fingers do the walking (and adding) for me. Because we are self-employed and I'm the office girl and the treasurer/secretary of our company, it's my job to do this. (It's also one of the ways that I am a helpmate for my husband. By doing the books and taxes for him, he's free to do other things. Oh, and I do not make the financial decisions, he does, I just do the bookwork and weekly finger work.) Doing the books is a fact of my life—and definitely not a favorite part! But I don't get hung up about paying taxes either. They're a fact of life.
Politics is not something I tackle here, but I do have a few opinions. One of them is our responsibility to pray for our president—regardless of whether I agree with him or not. The other opinion I feel strongly about is paying taxes. We need to pay them. We need to pay to Caesar what is due him. The government is placed over us for many reasons (no, I don't agree with big government) and they do have a place in the big scheme of things. Anarchy has no appeal to me, so I pay my taxes and pray for our government.
But the government only gets my taxes. My life and my soul belong to God. Money is temporary. My soul is eternal. God has given me so much and I have the privilege of giving back to Him myself. Even with giving Him my life, there is no way I could ever repay what God has done for me. Michael W. Smith's song sums it up for me:
"I Give You My Heart"
This is my desire, to Honor You
Lord with all my heart I worship You
All I have within me
I give You praise
All that I adore is in You

Lord I give You my heart
I give You my soul
I live for You alone
Every breath that I take
Every moment I'm awake
Lord have Your way in me

Lord I give You my heart
I give You my soul
I live for You alone
Every breath that I take
Every moment I'm awake
Lord have Your way in me

This is my desire, to Honor You
Lord with all my heart I worship You
All I have within me
I give You praise
All that I adore is in You

Lord I give You my heart
I give You my soul
I live for You alone
Every breath that I take
Every moment I'm awake
Lord have Your way in me

Lord I give You my heart
I give You my soul
I live for You alone
Every breath that I take
Every moment I'm awake
Lord have Your way in me

Lord I give You my heart
I give You my soul
I live for You alone
Every breath that I take
Every moment I'm awake
Lord have Your way in me