Okay, I have to admit that one of my favorite things to do around here is the a 2 z meme (rhymes with cream).
What's a meme? A meme is when a group of people get together and post on a similar topic or theme. It's the blogger's version of a progressive dinner...or a potluck dinner. Full of variety and fun.
Why is the a 2 z meme one of my favorites?
So glad you asked. LoL.
Here's why...
Because a 2 z gives me the perfect excuse to just post on any random thing that happens to begin with the letter of the week.
It often opens my eyes to things in my world that begin with that letter and lets me post on things I wouldn't normally post about.
I take a lot of pictures and it's a fun outlet for them.
a 2 z is a great post jump-starter for me, often giving me just the spark of inspiration and creativity I need.
The a 2 z meme will be starting again the first Tuesday of August, which is
August 7th
. Anyone and everyone is welcome to join us. It's a come as you can thing--no commitment, just jump in and post on the week's letter as you can.
I'll be posting a blog hop linky so each of you can have the linky gadget on your sites. It's more user friendly that way. =)
Here's the deal for a 2 z:
Anyone can play.

Some of us will be returning a 2 z-ers, but any one can join us and we would LOVE to have you along! The more the merrier! Grab a friend and join us!!

Anything goes.

If you're pressed for time, pressed for brain cells (a common ailment of mine), stumped, whatever... a simple list will work! Or a picture or a verse—anything to get a post up. Seriously. Just make sure it ties in with the week's letter. It can also be as focused or even a complicated post about a word that starts with that letter. Anything goes, related to the letter.

One letter a week.

We'll start with A and finish by the February 12th--we'll take Christmas and New Year's off.

Tuesday's the day.

Posting day is Tuesday. Or Monday, Wednesday, Thursday, Friday, Saturday or Sunday. ROFL. If you're like me, you might not remember on Tuesday, so any day works. I don't care, but that brings me to...

Let's link together!

Part of the fun of a meme is linking together so we can encourage each other on. I'll put a linky up on my site each Tuesday, shortly after midnight so you can link up.

Guilt-free participation!

Time is precious commodity for all of us. If you participate, all I ask is that you take a few moments and visit and comment on TWO other participants' sites. No need to visit everyone, but a couple is very appreciated.
Want to know more about memes and why you'd want to participate?
Check out Making the Most of Memes for more information.
Grab the button and join in the fun!
Button code for 200px wide image: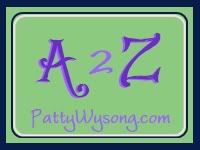 Don't forget, a 2 z starts back up on August 7th. Hope to see you!